Have you heard of lariat necklaces? A lariat, as defined in most of the dictionaries, is basically a long ripe that comes with a noose, and has been used to capture animals. As a piece of jewelry, the lariat necklaces comprise of a long strand of chain, oftentimes with semi-precious stones or it perhaps even feature a clasp like a conventional necklace.
You may not know how to wear a lariat necklace initially. Some just experiment by wearing the necklace like a scarf. They just wound it around the neck with both the ends hanging on either side of the neck. The look of the necklace can be adjusted against the neck by varying how tight it is wounded. It could give an outlook as if you are wearing a choker or that you are wearing a loose necklace. You could even wear it in reverse, with the strands handing backwards. This could be a striking look with a backless top or low back dress.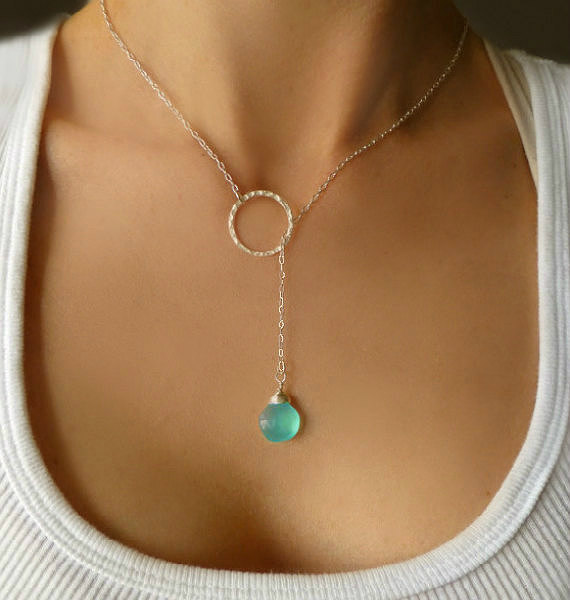 Another experiment that you can do with wearing the lariat necklace is as if it were a tie. This works best if you have a plain lariat style necklace. You need to be cautious if the lariat contains diamonds or even if it contains only crystals as you would not want the stone to fall out. There are several different ways to knot a tie but it would be good if you just wrap one end around the other and then pull it through the loop that has been created. This can look a bit plain if you have a simple lariat. Affixing a jeweled or floral pin to the knot of the lariat may be useful to add some interest.
Lariat can also be worn on the wrist as a unique bracelet. If the strand is long enough, you could wind it from your wrist to your tie and elbow so the ends are dangling at your wrist. This could be a very fresh interpretation on the cuff bracelet. You could also just wind it around the wrist and give an illusion that you are wearing multiple bracelets.
Lariat style necklaces can be one versatile piece of jewelry that you can add to your collection. You can easily find elegant lariat necklaces in your local shops as well as with retailers online. Get these stylish, contemporary and versatile necklaces today and make your fashion statement standout.  You could take the safe route and simply wear it around your neck or if you want to be bold then you can always try it in unique new ways.